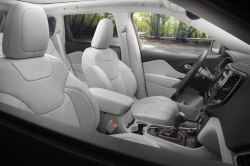 — Chrysler is recalling more than 250 model year 2019 Jeep Cherokees because the front passenger seats may move in crashes.
The automaker says the front seat mounting bolts may not have been tightened during manufacturing.
Jeep Cherokee customers should have been contacted by now and provided information concerning dealerships tightening the bolts.
With questions, call the automaker at 800-853-1403 and ask about recall number V31.
Read what drivers tell CarComplaints.com about 2019 Jeep Cherokees and other model years of Cherokees.