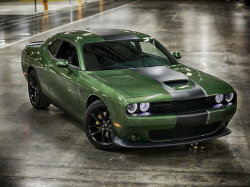 — Nearly 8,000 model year 2019 Dodge Challenger, Charger and Chrysler 300 vehicles are recalled because the instrument cluster warnings may fail to let drivers know about problems.
According to Fiat Chrysler (FCA US), the warning chimes, messages and gauges may not properly illuminate and warn drivers of system issues.
FCA says it tracked the problem by using instrument cluster part numbers and determined defective clusters with software problems were put into vehicles from December 12, 2018, through January 28, 2019. Vehicles built after January 28 were assembled using instrument clusters with updated software.
Although warranty claims were received, Chrysler says it is unaware of any crashes or injuries related to drivers losing the warnings.
Affected owners should have received recall notices informing them to get the vehicles to dealerships to have the instrument cluster software updated.
If you own a 2019 Dodge Challenger, Charger or Chrysler 300, you may call FCA at 800-853-1403. Chrysler's number for this recall is V32.
CarComplaints.com has owner-reported complaints about the Dodge Challenger, Dodge Charger and Chrysler 300.