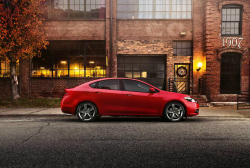 — A Dodge Dart clutch lawsuit has been certified as a class action, but only for customers who purchased or leased the cars in California.
The original class action was filed to represent Dart customers nationwide, including owners and lessees of used cars. But the lawsuit now includes all consumers who purchased or leased new 2013-2016 Dodge Darts from authorized dealerships in California.
The Darts must be equipped with Fiat C635 manual transmissions and the cars must have been purchased or leased "primarily for personal, family, or household purposes."
Plaintiff Carlos Victorino says the Fiat C635 manual transmission caused his clutch to fail and stick to the floor.
According to the class action, defects in the hydraulic clutch systems existed since the cars were first sold or leased, defects that cause the clutch pedal to lose pressure and stay on the floorboard. This prevents a driver from shifting gears and allegedly causes a dangerous driving situation that leads to a stalled car.
FCA issued a technical service bulletin (TSB 06-001-16) entitled "Clutch Pedal Operation X62 Extended Warranty" because of problems with contaminated hydraulic fluid caused by the degradation of the clutch reservoir hose. Dealerships were told to replace the hydraulic clutch master cylinders and reservoir hoses for 2013-2015 Dodge Darts.
The plaintiff, however, claims the X62 extended warranty failed to fix the clutch problems and did nothing concerning contaminated hydraulic fluid which is what damages the components.
According to plaintiff, any repair requires replacement of all component parts, including the clutch slave cylinder, and cleaning of any steel tubing with brake cleaner and drying it before reassembly.
FCA denies there is anything wrong with the cars and told the judge that even with more than 107,000 miles on the odometer, the plaintiff's Dodge Dart hasn't showed any signs of clutch problems caused by a defective reservoir hose.
Chrysler argues an investigation conducted together with the reservoir hose supplier determined the condition caused by the defect affects only 16% of 2013-2016 Dodge Darts. According to Chrysler, the reason only 16% of the cars may be affected is because each car has component parts that are manufactured differently.
The automaker also told the judge the existence of the problem depends on many things, including the amount of plasticizer in the reservoir hose, the size and position of the clutch system seals and varying tolerance levels.
The Dodge Dart clutch lawsuit was filed in the U.S. District Court for the Southern District of California - Victorino, et al., v. FCA US LLC.
The plaintiff is represented by Capstone Law APC.
CarComplaints.com has owner-reported complaints about the cars.