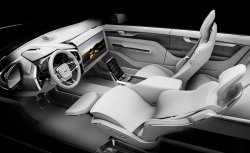 — Although the U.S. government says it has the safety of consumers in mind when the subject involves autonomous vehicles and technology, the National Highway Traffic Safety Administration (NHTSA) has for the most part stepped aside to allow automakers to police themselves.
Safety regulators claim they don't want to stifle innovation by forcing mandated standards onto autonomous companies, a decision that allows self-driving automakers to make up their own rules as they go.
Ford, General Motors and Toyota say they are "stepping forward" to form what they call the Automated Vehicle Safety Consortium (AVSC) in cooperation with SAE International, formally known as the Society of Automotive Engineers.
SAE and the three automakers say they will work to advance autonomous testing, development and deployment of Level 4 and Level 5 driverless vehicles.
Level 4 and Level 5 autonomous vehicles are equipped with automated features that do the driving and won't require anyone to take control even if a consumer is in the driver's seat.
A Level 4 self-driving vehicle will handle all the driving chores under limited conditions, while Level 5 vehicles operate autonomously in all conditions. In addition, it's possible Level 4 and 5 driverless cars won't be equipped with steering wheels, accelerator pedals or brake pedals.
According to Ford, General Motors and Toyota, they "have decades of experience developing and deploying safe and trusted vehicles" and want to deploy safe self-driving vehicles "consistent with their long-established commitment to reliability and safety."
The consortium will start by setting priorities to establish safety principles to use as guidelines for developers and manufacturers of autonomous vehicles and technology.
Driving Public Wary of Autonomous Cars
Notwithstanding the work of SAE and automakers, a recent survey conducted by news organization Reuters supports the findings of previous research that shows consumers aren't too hip on jumping into the seats of self-driving cars.
In a poll of 2,222 U.S. consumers, 41 percent of drivers said they wouldn't pay more than $2,000 for self-driving technology and 66 percent said they wouldn't purchase a fully autonomous car.
About 63 percent of drivers said they wouldn't pay a cent for a vehicle with autonomous technology, and about 30 percent of consumers believe driverless cars are more dangerous than non-self-driving vehicles.
In addition, even though federal safety regulators may be leaving safety guidelines as voluntary for the industry, about 66 percent of respondents said driverless cars should pass more stringent safety standards than typical vehicles.
What Reuters discovered with its survey corresponds to previous research about driverless cars, including a report in 2018 that indicated 50 percent of U.S. consumers didn't want autonomous cars.