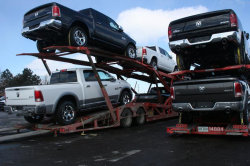 — A Fiat Chrysler EcoDiesel lawsuit doesn't include vehicle buybacks but does offer cash reimbursements, extended warranties and repairs to the emission systems.
The settlement includes about 104,000 model year 2014-2016 EcoDiesel Jeep Grand Cherokee SUVs and Ram 1500 trucks allegedly rigged to cheat emissions tests and consumers.
The consolidated class-action lawsuit, called multidistrict litigation, alleges Fiat Chrysler (FCA) conspired with parts manufacturer Bosch to create and install illegal defeat devices to alter nitrogen oxide levels.
The class-action was prosecuted at the same time government settlements were negotiated to ensure the vehicles are brought within legal emissions standards and to compensate EcoDiesel customers.
According to the settlement, the lawsuit includes all 2014-2016 EcoDiesel Jeep Grand Cherokee and Ram 1500 customers who on January 12, 2017, owned or leased Ram 1500 or Jeep Grand Cherokee 3-liter diesel vehicles.
Eligible customers also include those who between January 12, 2017, and the claim submission deadline become the owner or lessee of an eligible truck or SUV.
EcoDiesel Compensation
FCA has also agreed to pay an estimated $307.5 million to affected customers, with that amount reached if all customers participate in the claims program.
An affected Ram or Jeep owner is eligible to receive a payment of $3,075 if no eligible former owner or former lessee makes a valid claim on the same vehicle, or $2,460 if an eligible former owner or former lessee does make a valid claim on the same vehicle.
Former owners, lessees and former lessees are all eligible to receive $990 each.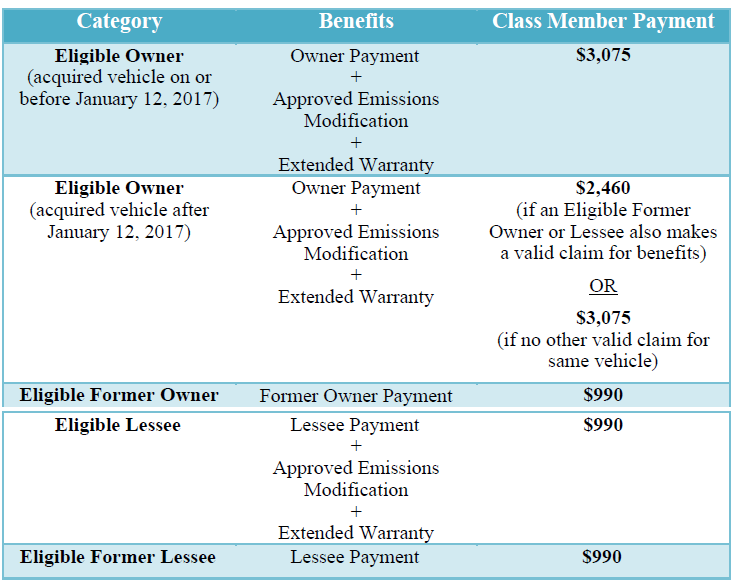 EcoDiesel Extended Warranty
A customer who receives the emissions fix will also receive an extended warranty for 10 years from the date of the initial sale of the vehicle, or 120,000 miles on the odometer, whichever comes first. In addition, the warranty will cover a time of four years or 48,000 miles from the date and mileage of the emissions fix, whichever comes first.
The EcoDiesel extended warranty covers the cost of all parts and labor necessary to repair these items.
Catalysts
Diesel Oxidation Catalyst/Diesel Particulate Filter (DPF) Assembly
Selective Catalytic Reduction (SCR) Catalyst
Diesel Exhaust Fluid (DEF) System
DEF Injector
DEF Injector Controller
DEF Storage Tank
DEF Delivery Lines
DEF Concentration Sensor (2016 Model Year Ram 1500 and Jeep Grand Cherokee only)
DEF Supply Module, Pump, & Temperature Sensor Unit
Low Pressure Fuel Pump Module & Level Unit
Fuel Injectors
Fuel Rail
High Pressure Fuel Line
High Pressure Injection Pump & Regulator Unit
Parts of the Exhaust Gas Recirculation (EGR) System
EGR Cooler Tubes
EGR Cooler
EGR Valve
EGR Temperature Sensor
EGR Cooler bypass actuator
Oxygen Sensors
NOx Sensors
Intake Manifold Pressure Sensor
Engine Coolant Temperature Sensor
Fuel/Water Separator Sensor
Intake Swirl Actuator Sensor
Engine Camshaft Position Sensor
Engine Crankshaft Position Sensor
Particulate Matter Sensor
Mass Airflow Sensor
Boost Pressure Sensor
Crankcase Pressure Sensor
Exhaust Manifold Pressure Sensor
Throttle Valve
Exhaust Temperature Sensor
DPF Differential Pressure Sensor
Engine Control Module (Computer)
Transmission Control Module (Computer)
Valve Body & Solenoids
Throttle Valve
Cylinder Head Assembly, including Valves, Springs, Valve Spring Keepers, Valve Seats, Cam Bearing Caps and Manifold Studs (Camshaft and other components of the assembly are not covered)
Engine Thermostat/housing/gasket
The turbocharger system including all related hoses and pipes, all sensors and actuators
The EcoDiesel settlements estimate the extended warranty will cost Chrysler more than $105 million and will likely be approved following a scheduled hearing for preliminary settlement approval on January 23, 2019.
Lawyers for the plaintiffs will receive up to $66 million.
The case is: In Re Chrysler-Dodge-Jeep Ecodiesel Marketing, Sales Practices, And Products Liability Litigation.
Ram and Jeep customers may learn more by visiting EcoDieselSettlement.info.