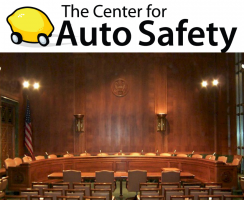 — The Center for Auto Safety (CAS) has called on the National Highway Traffic Safety Administration (NHTSA) to keep vehicle safety defect records a minimum of 20 years, 15 more years than the current five-year requirement and 10 years more than the minimum required by Congress.
According to the Center, keeping safety records for five years has been "woefully inadequate and outdated," and NHTSA's plan to extend the period to 10 years isn't much better.
In comments submitted to federal safety regulators, CAS argues retaining safety records for 10 years is only the "bare minimum" at a time of record recalls, injuries and deaths.
The government claims "records most pertinent to a defect investigation will be those generated in the previous ten years because those are the records more likely to show an emerging defect trend."
But the Center says NHTSA seems to ignore the value of records beyond 10 years old which have led to important recalls and investigations, especially concerning design defects.
CAS says a defect investigation should include design defects, something that relies on documents possibly created years before a vehicle is sold to the public. In addition, documents related to design problems could possibly be produced many years before a vehicle is manufactured, making the "current proposal untenable."
In its comments to the government, the Center for Auto Safety provides examples by using real-life deadly defects related to airbag manufacturer Takata and automaker General Motors.
"For example, under a 10-year record retention policy, General Motors could have tossed out records related to the detent plunger change that resulted in hundreds of ignition switch related deaths and injuries, and Takata could have destroyed all records related to the design of exploding airbag inflators."
If those two examples aren't proof enough of needing to retain records longer than 10 years, CAS also references current government actions related to safety defects.
"Moreover, 44% of NHTSA's current 43 active Defect Petitions, Preliminary Evaluations, Engineering Analysis investigations, involve vehicles or equipment that began production more than 10 years ago."
The Center says the proposed 10-year limit will give automakers an incentive to "run out the clock" concerning the reporting of safety defects.
By requiring less information than is needed to enforce safety regulations, the Center claims NHTSA is placing corporations worth billions of dollars above the safety of the public.