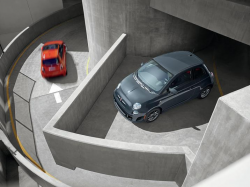 — A Fiat 500 hatch wiring harness lawsuit alleges defects in the wiring cause malfunctions of the interior lights, electric door locks, rear window wipers and in some cases the hatches won't open.
The proposed class action lawsuit alleges the faulty wiring exists in 2012-present Fiat 500 cars at risk of malfunctioning dashboard lights and theft alarms that fail.
According to the lawsuit, the plaintiff purchased a new 2012 Fiat 500 and about four years later the interior lights allegedly stopped working. In addition, the doors wouldn't lock or unlock electronically, and the rear window wiper stopped working. Then in 2018 the hatch allegedly wouldn't open and a few dash lights stopped working.
The plaintiff also claims the theft alarm periodically activated for no good reason, causing the plaintiff to take the Fiat 500 to a Chrysler dealership. Technicians allegedly told the plaintiff the rear wiring harness and the latch on the hatch needed to be replaced, something that cost the plaintiff $476.50.
Fiat Chrysler says no other problems occurred and no further repairs have been performed on the car. The automaker also says the plaintiff admits he drove his car for years even though the vehicle occasionally had minor problems.
The lawsuit alleges the problems constitute a "defect" because the harness wiring wears out prematurely and becomes damaged as the insulation breaks. The wear and tear allegedly comes from the hatch being opened and closed, in addition to the "drastic arc" in the harness.
Fiat Chrysler says the lawsuit should have never been filed, and it certainly doesn't qualify for class action certification. The automaker says the plaintiff filed the suit even though all he had to do was replace the rear hatch wire harness during six years of driving.
Chrysler also argues the plaintiff claims the wiring is a safety issue, yet he waited a few years to take the car to a dealer.
"Indeed, he admits that he ignored these problems for years and continued to drive the vehicle until it was convenient for him to have the rear wire harness in his vehicle replaced." - Attorneys for Fiat Chrysler
The automaker claims the lawsuit should be dismissed because wire harnesses, like all components of a car, eventually wear out over time and need to be replaced. That is allegedly no reason to file a nationwide class action lawsuit.
The Fiat 500 hatch wiring harness lawsuit was filed in the U.S. District Court for the Central District of California - Kahn, et al., v. FCA US LLC.
CarComplaints.com has driver complaints about the Fiat 500.