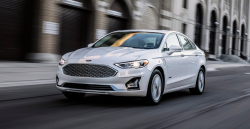 — A 2019 Ford Fusion Energi recall will have dealerships repairing about 2,100 cars in the U.S. to prevent access to high-voltage dangers.
Ford says the Fusion Energi cars were built in a way that can allow contact with an uncovered high-voltage fuse, something engineers accomplished by using a wire test probe 1 mm by 100 mm long.
The automaker says small gaps behind the access panels create the risk of injuries from touching the high-voltage fuses.
The government says Ford's problem violates federal safety standards, specifically number 305 that was created in September 2018 and titled, "Electric-Powered Vehicles: Electrolyte spillage and electrical shock protection."
Ford dealers need to install "bus electrical center covers" over the high-voltage fuses to prevent physical contact with the fuses.
According to Ford, there haven't been any crash or injury reports related to the problem in the Fusion Energi cars built between October 1, 2018, and December 14, 2018.
Ford says the recall is expected to begin April 1, 2019, but concerned owners may call the automaker at 866-436-7332. Please refer to recall number 19C05.
Check out what Ford Fusion Energi drivers say about their cars.