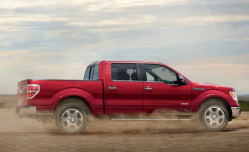 — Ford is recalling model year 2013 Ford F-150 trucks equipped with 5-liter and 6.2-liter gasoline engines even though the trucks were recently recalled.
The problem is the powertrain control module software that was reprogrammed in the trucks equipped with 6-speed transmissions.
About 123,000 F-150s are involved, and all were worked on during a February 2019 recall of 1.5 million trucks that could suddenly downshift at highway speeds. What's bad is the recall a few months ago followed an April 2016 recall for the same downshifting problem.
Ford says the 2013 F-150s had their powertrain control module software updated, but apparently the software updates were useless because unintended acceleration into first gear will still occur.
In addition, the software updates did nothing to fix problems with the warning lights in the event of errors in the transmission output speed sensor signals.
Ford told the government that reprogramming of the transmission control module software was "incomplete."
Ford says it doesn't know of any reports concerning crashes or injuries related to the sudden unexpected downshifting, but any driver faced with the problem will also be faced with the possibility of a crash.
About 107,850 of the Ford F-150s are in the U.S. and another 15,200 are in Canada.
All the 2013 F-150 trucks were built in Michigan between May 7, 2012, and October 27, 2013, and in Kansas City from April 18, 2012, to November 18, 2013.
The recall is expected to begin June 24, 2019. Ford dealers will once again try to repair the trucks by reprogramming the powertrain control modules with the correct software calibrations.
If you own a 2013 Ford F-150 and believe you may be affected by the recall, contact the automaker at 866-436-7332 and use reference number 19S19.