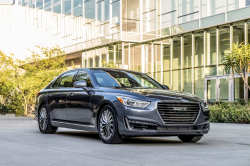 — Hyundai is recalling more than 8,400 Genesis G80 and Genesis G90 vehicles equipped with 3.3-liter turbo engines.
The 2018 Genesis G80 and 2017-2018 Genesis G90 may have loose seals in the turbocharger oil supply pipes, something that can cause oil to leak onto the exhaust manifolds. This creates the perfect condition for a fire, something that has already occurred.
However, Hyundai says it is unaware of any U.S. crashes or injuries related to the oil leaks.
Hyundai says it received a report of an engine compartment fire in a 2017 Genesis G90 in Korea, causing the automaker to open an investigation into what caused the "thermal event."
The automaker searched its records for any design changes and found a production change that was made in July 2017 "to increase the swaging pressure on the fitting located near the center of the turbocharger oil supply pipe assembly."
Hyundai found five warranty claims concerning oil leaks from the turbo oil feeder pipes in 2017-2018 Genesis vehicles which was enough to convince the company to issue a recall.
Drivers should watch for white smoke or oil leaking onto the ground, in addition to keeping the nostrils open for the smell of burning odors.
In the U.S., more than 8,000 Genesis vehicles are recalled and another 351 are recalled in Canada.
The Genesis G80 and Genesis G90 oil leak recall is expected to begin in the U.S. September 6, 2019, when dealers will replace the turbocharger oil supply pipes.
Genesis owners in the U.S. may call 855-371-9460 and use Genesis recall number 003G.
Canadian customers may call 888-216-2626.