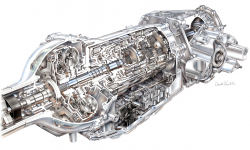 — GM 8L90 and 8L45 transmission problems have caused a proposed class action lawsuit that alleges the 8-speed transmissions are defective in the following vehicles in California, Illinois, Michigan, New Jersey, New York and Texas.
2015-2017 Cadillac Escalade
2015-2017 Cadillac Escalade ESV
2016-2019 Cadillac ATS
2016-2019 Cadillac ATS-V
2016-2019 Cadillac CTS
2016-2019 Cadillac CT6
2016-2019 Cadillac CTS-V
2015-2019 Chevrolet Silverado
2017-2019 Chevrolet Colorado
2015-2019 Chevrolet Corvette
2016-2019 Chevrolet Camaro
2015-2019 GMC Sierra
2015-2019 GMC Yukon
2015-2019 GMC Yukon XL
2015-2017 GMC Yukon Denali
2015-2017 GMC Yukon Denali XL
2017-2019 GMC Canyon
According to the plaintiffs, GM 8L90 and 8L45 transmission problems have plagued their vehicles because dealerships have been unable to remedy. The automatic transmissions allegedly act up when drivers attempt to accelerate or decelerate.
"Drivers attempting to accelerate or decelerate their cars feel a hesitation, followed by a significant shake, shudder, jerk, clunk, or 'hard shift' when the vehicle's automatic transmission changes gears. Said shudder, shake and hesitation also occurs while the subject vehicles are accelerating in a single gear, and not actively shifting gears."
The plaintiffs say 8L90 and 8L45 transmissions can violently shift to the point drivers believe they were hit by other vehicles. The transmission problems allegedly occur within the transmissions or torque converters that cause friction on the surfaces and failures of the gears and hydraulic systems.
This allegedly causes metal shavings to circulate through the 8L90 and 8L45 transmissions, damaging the torque converters and transmissions.
According to the lawsuit, owners and lessees are stuck with repeated repairs that include flushing the transmissions of metal shavings, but in the end the vehicles still suffer multiple problems. The plaintiffs say they can't depend on their vehicles, something that if they would have known likely would have caused them to purchase different vehicles.
General Motors has allegedly known about the 8L90 and 8L45 transmission problems since 2015 when the automaker started issuing technical service bulletins (TSBs) and other bulletins to dealerships. The bulletins are meant to assist dealers if customers complain about issues with the transmissions by making repairs such as these:
Complete the "clutch drive learn procedure"
Replace the valve body
Flush the cooler lines and cooler
Flush the transmission
Remove debris from and clean the transmission pan
Replace the transmission filter
Replace the transmission fluid
Replace the entire transmission
According to the plaintiffs, none of the repairs have truly fixed the transmission problems and the automaker continues to conceal the alleged defects from customers.
Documents from the lawsuit reference numerous preliminary information (PI) and technical service bulletins sent to dealers beginning in October 2015 up to October 2018. The bulletins were sent because of problems with the 8-speed transmissions that shudder, jerk, lurch and have delayed responses, specifically GM 8L45 and 8L90 transmissions.
Starting in October 2015, GM issued PI bulletin PIP5337 entitled, "Shake or Shudder on Acceleration Excessive Engine RPM Fluctuation," for vehicles equipped with 8L90 transmissions.
According to the PI, customers were complaining about:
"A shudder feeling that may be described as driving over rumble strips or rough pavement. These conditions may be caused by an internal torque converter issue. A revised torque converter that addresses these conditions will be available soon."
The plaintiffs claim bulletin PIP5337 has been updated at least 10 times since it was issued.
In September 2014, GM issued TSB 14-07-30-001 entitled, "Information on Transmission Adaptive Functions," this one concerning problems with 8L90 transmissions.
"Some customers may comment on low mileage vehicles with automatic transmission that shift feel to be too firm (harsh) or may slip or flare. Customers should be advised that the transmission makes use of an adaptive function that will help to refine the shift feel while driving and improve shift quality."
Then came TSB 16-NA-175 entitled "Shake and/or Shudder During Light Throttle Acceleration, Between 48 and 104 KM/H (30 and 65 MPH) at a Steady State," which applied to vehicles equipped with 8L90 transmissions.
In June 2016, GM issued PI bulletin PIP5405 with the subject line, "Surge Misfire Feeling Sensation During Highway Steady State Driving," which was followed by TSB 16-NA-014 entitled, "Delayed Engagement After Sitting With Engine Off."
In April 2017, GM issued PIE0405 entitled, "Engineering Information—Torque Converter Shudder," a bulletin that was updated in September 2017.
In January 2019, GM issued TSB 18-NA-355 entitled, "Shake and/or Shudder During Light Throttle Acceleration Between 25 and 80 MPH (40 and 128 KM/H) at Steady Speed."
According to the lawsuit, General Motors issued more than 12 additional bulletins related to 8-speed transmission problems. In addition, instead of sending dealers multiple bulletins, the plaintiffs say the automaker should have warned consumers about vehicles equipped with faulty transmissions.
The GM 8L90 and 8L45 transmission lawsuit was filed in the U.S. District Court for the Eastern District of Michigan, Southern Division - Francis, et al., v. General Motors, LLC.
The plaintiffs are represented by Pitt McGehee Palmer & Rivers, Cohen Milstein Sellers & Toll, and Gordon & Partners.
CarComplaints.com has owner-reported complaints about vehicles named in the GM lawsuit.