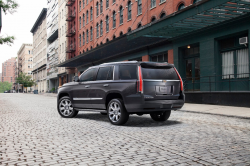 — More than 300,000 Cadillac, Chevrolet and GMC vehicles are recalled in Canada to repair problems with the brake vacuum pumps.
Transport Canada opened an investigation in June after owners complained about hard brake pedals and extended stopping distances.
2015-2017 Cadillac Escalade
2015-2017 Cadillac Escalade ESV
2014-2017 Chevrolet Silverado
2014-2017 Chevrolet Silverado LD
2015-2017 Chevrolet Suburban
2015-2017 Chevrolet Tahoe
2014-2017 GMC Sierra
2014-2017 GMC Sierra LD
2015-2017 GMC Yukon
2015-2017 GMC Yukon XL
GM says a decrease in output from the vacuum pump will cause a reduction of power braking assist, a problem that is also under investigation in the U.S.
The automaker is working on a fix for the problem, but no further details about the vacuum pump recall was announced for Canadian customers.
Canadian owners with questions may call 800-263-3777.
Update: GM announced a recall on September 11, 2019, for more than 3.4 million vehicles in the U.S. to repair vacuum pump problems. Click here for details.
Read what drivers say about the trucks and SUVs named in the vacuum pump recall.