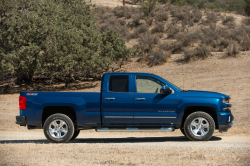 — A GM vacuum pump recall for more than 3.4 million SUVs and trucks has been issued in the U.S. because brake assist could be lost and drivers could experience hard brake pedals and longer stopping distances.
The General Motors vacuum pump recall includes these models in the U.S.
2015-2017 Cadillac Escalade
2014-2018 Chevrolet Silverado
2014-2018 GMC Sierra
2015-2018 Chevrolet Suburban
2015-2018 Chevrolet Tahoe
2015-2018 GMC Yukon
The vacuum pump recall was announced for 3,456,111 vehicles in the U.S. about two months after a similar recall was announced for about 300,000 Cadillac, Chevrolet and GMC vehicles in Canada.
The U.S. recall also follows a federal investigation opened in November 2018 due to complaints about vehicles losing their ability to properly brake because of the vacuum pumps.
GM says at least 110 crashes and 13 injuries have allegedly been caused by the engine-mounted mechanical vacuum pump output decreasing over time. Drivers will notice hard brake pedals, longer stopping distances and likely see a "Service brake assist" alert that will activate 2 to 5 minutes after the vacuum level drops.
The automaker says the problem begins with the vacuum pump which is lubricated with engine oil that flows into the pump through a filter screen. Oil sludge can build up on the filter screen and block the flow of oil into the vacuum pumps and reduce the vacuum pressure.
GM says failing to change the oil as recommended can contribute to the problems by allowing debris to turn into sludge.
The automaker also says the vehicles have secondary hydraulic power brake assist systems that activate to provide power brake assist if the vacuum drops. However, the hydraulic brake boost is limited when the vehicles are traveling at lower speeds.
In addition to longer stopping distances, hard brake pedals and warning messages, a driver may feel vibration in the brake pedal and hear a ticking noise coming from the engine compartment.
General Motors doesn't know when the vacuum pump recall will begin, but dealerships will need to reprogram the electronic brake control modules.
Truck and SUV owners may contact Chevrolet at 800-630-2438, Cadillac at 800-458-8006 or GMC customer service at 800-462-8782.
GM's vacuum pump recall number is N192268490.
CarComplaints.com has owner-reported complaints about the vehicles named in the pump recall.
Read what drivers tell CarComplaints.com about the GM vehicles.