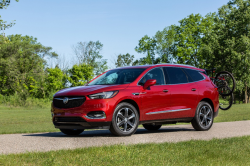 — General Motors is recalling more than 3,500 model year 2020 Buick Enclave and Chevrolet Traverse SUVs because the right-hand frame rails in the engine compartments may be cracked.
Employees at a Michigan plant discovered a vehicle with a stress fracture in the right-hand frame rail in the engine compartment.
The plant performed an inspection of about 2,000 vehicles and found three more fractured frame rails, causing GM to contact the supplier of the rails, Cosma Body Assembly of Michigan.
The supplier determined the fractures were caused by an incorrect configuration made to a stamping die after the die had been repaired. Meanwhile GM engineers conducted computer simulations to learn the effects of the fractured rails during a crash.
Although the automaker decided to order the recall, GM says it could find no additional instances of busted frame rails.
More than 3,400 vehicles are recalled in the U.S. and another 153 are recalled in Canada.
General Motors doesn't know when the Buick Enclave and Chevy Traverse recall will begin, but any affected SUVs will be replaced.
Customers with concerns should call Chevrolet at 800-630-2438 or Buick at 800-521-7300 and ask about recall number N192268310.
Canadian vehicle owners may call 800-263-3777.
CarComplaints.com has complaints from drivers of Buick Enclave and Chevy Traverse SUVs.