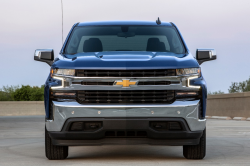 — A General Motors engine block heater cord recall has been issued for more than 324,000 trucks in the U.S. and 40,300 vehicles in Canada.
GM says the following Duramax 6.6-liter diesel trucks have engine block heater cords or terminals that may short-circuit and cause fires.
2019 Chevrolet Silverado 4500
2019 Chevrolet Silverado 5500
2019 Chevrolet Silverado 6500
2017-2019 Chevrolet Silverado 2500
2017-2019 Chevrolet Silverado 3500
2017-2019 GMC Sierra 2500
2017-2019 GMC Sierra 3500
GM knew of five fires involving engine block heaters in 2018 GMC Sierra 2500 and 3500 trucks and opened an investigation in February 2019.
As of April 17, 2019, GM had received 19 claims alleging the engine block heaters or block heater cords caused fires in 2017-2019 Chevrolet Silverado and GMC Sierra 2500 and 3500 trucks.
General Motors says it's still investigating the heater cord problem and the automaker currently hasn't figured out how to repair the problem. However, engineers believe a short-circuit can occur for a few reasons.
First, an electrical short is possible if block heater coolant leaks and makes contact with the heater cable terminals while the cord is plugged in. Second, a short-circuit may occur if the engine block heater cord is damaged due the way the cord is routed or stored.
A driver may have warning of a problem in the form of seeing smoke or smelling a burning odor, or if coolant from the block heater is found under the truck. A short-circuit may also trip circuit breakers or blow fuses, and in some cases engine components may melt and catch fire.
The automaker doesn't know when the engine block heater cord recall will begin since no fix is known, but affected customers should not use the heaters or cords until the trucks are repaired.
If you're worried about your vehicle, call GM customer service at 586-596-1733 and refer to recall number N182206310.