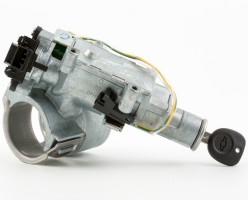 — General Motors has prevailed in a lawsuit that alleges a defective ignition switch caused the crash of a 2007 Saturn Ion and the non-deployment of the airbags.
The lawsuit is one of hundreds being heard in a New York courtroom, but as seen in the Saturn Ion case, GM is facing claims that don't hold up in court.
Plaintiffs Sandy Brands, Jay Brands and Emma Leyba filed suit against the automaker alleging a defective ignition switch in the 2007 Saturn Ion unintentionally moved out of the "Run" position. According to the plaintiffs, this shut down power to the car and caused failure of the airbags when the vehicle crashed.
On September 2, 2013, Sandy Brands was driving her 2007 Saturn Ion on a California highway with Leyba in the passenger seat when another vehicle swerved into her lane. According to both Leyba and an eyewitness, Brands swerved into the left lane to avoid a collision and crashed into the center guardrail.
Although Brands claims the ignition switch caused the car to shut off, passenger Emma Leyba testified that, "as far as [she knew], the engine was running the entire time up to the point where it made contact with the center median" and she had no "evidence or knowledge or observation of the ignition switch cutting off."
Adding to that little problem, data were collected from the sensing and diagnostic module which controls the deployment of the frontal airbags as long as the vehicle maintains its power. The data showed the module never lost power and it recorded two "non-deployment" crash events that were not significant enough to trigger deployment of the airbags.
U.S. District Court Judge Jesse M. Furman says the plaintiffs filed claims for "strict liability, negligence, and breach of warranty," but for each claim the plaintiffs "bear the burden of proving that the alleged ignition switch defect in Brands' 2007 Saturn Ion was a substantial factor in causing the accident and resulting injuries."
Attorneys for General Motors argue the plaintiffs fail because expert testimony is required to prove the alleged defect caused or contributed to the accident and the non-deployment of the airbags, but the plaintiffs provided no such testimony.
In addition, GM told the judge that based on the facts on record, the evidence precludes "a reasonable fact finder from concluding that the ignition switch inadvertently rotated, let alone that it caused the accident and airbag non-deployment."
The judge agreed and dismissed the plaintiff's claims in their entirety.
General Motors still faces hundreds of lawsuits related to ignition switches, but as in the above case, certain past lawsuits were tossed out because owners had no evidence to support their claims.