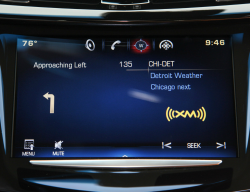 — A proposed class action lawsuit against General Motors alleges owners deserve to be compensated for data the automaker collects from connected vehicles.
According to the lawsuit, data from connected vehicles is the next big moneymaker that could be worth more than the vehicles, and automakers like General Motors allegedly have no right to use that information for free or give it away.
The plaintiff claims GM should compensate drivers by offering financial incentives for the use of vehicle data or possibly offer lower monthly lease payments or rebates to owners.
Plaintiff Gregory L. Mehlman of California leased a 2018 Chevrolet Bolt EV in August 2018, and according to Mehlman he has lost money or property due to GM's unfair business practices.
Mehlman says his information is valuable and he should be compensated for data racked up every time he drives his vehicle, but instead General Motors allegedly illegally profits from the information.
According to the lawsuit, data from cars will be worth more than the cars themselves by 2020 and by 2030 the market for in-vehicle connectivity is expected to reach $750 billion.
As an example, GM is allegedly working on a feature that can detect when the vehicle is low on fuel and then offer a coupon on the infotainment display for a discount at a nearby gas station. In exchange, gas stations will pay the automaker a fee for the referral.
GM has access to raw data and then allegedly sells it to third parties without compensating car owners. The lawsuit references GM's privacy policy about data collected by the automaker and what happens to the data.
"GM stores information 'about you and your vehicle, such as name, address, email address, phone number, vehicle identification number (VIN) and vehicle performance data through your use of our products or services, and through GM affiliates, dealers, GM licensees for consumer merchandise, GM partners and others who provide information to us.'"
The lawsuit copies exact information collected by General Motors, including:
"[I]nformation about your vehicle such as license plate number, vehicle identification number (VIN), make, model, model year, selling dealer, servicing dealer, date of purchase or lease, the lease/financing term, service history, mileage, oil/battery status, fuel or charging history, electrical system function, gear status, and diagnostic trouble codes"
"[I]nformation about your connected devices such as mobile phone, computer, or tablet and how you interact with our products, services, apps and websites such as IP address, browser type, unique device identifier, cookie data, and associated identifying and usage information"
"[M]arketing profile information such as when you plan to purchase or lease; the vehicle in which you're interested"
"[D]emographic information such as gender, date of birth, marital status and household composition"
Lawsuit documents claim a driver shouldn't have to choose between consenting to data collection and losing connected vehicle functionality, and purchasers or lessees should be able to opt-in or opt-out of data collection and the use of that information.
The General Motors connected vehicle lawsuit was filed in the Superior Court for the State of California for the County of Alameda - Gregory L. Mehlman, et al., v. General Motors LLC, et al.
The plaintiff is represented by Pomerantz LLP, and the Law Offices Of Zev Zysman.