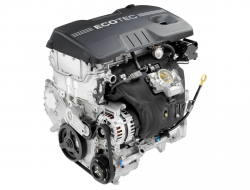 — A GM oil consumption lawsuit settlement is on hold after the federal judge told all the parties they need to come up with better settlement terms.
The consolidated class action oil consumption lawsuit started as three class actions: Berman v. General Motors, Hindsman v. General Motors and Sanchez v. General Motors.
The class action allege the engines burn one quart of oil every 1,000 miles. In addition, customers claim the SUVs suffer from fouled spark plugs, knocking sounds, timing chain damage, low oil pressure and complete engine failures.
According to the settlement, the terms apply to:
"All persons within the United States who purchased or leased, at any time before the Preliminary Approval Date, a new retail or used model year 2010, 2011, 2012 or 2013 Chevrolet Equinox or GMC Terrain vehicle equipped with 2.4 liter Ecotec engines, manufactured prior to the Production Change, and who have not experienced engine failure or executed a prior release of the claims set forth in the Action or Related Actions in favor of GM. Excluded from the Class Vehicles for avoidance of doubt are all model year 2013 Equinox and Terrain vehicles that GM manufactured after the Production Change."
General Motors denies there are defects in the vehicles but agreed to settle the lawsuit to save on expenses that will occur in a long trial.
Much of the proposed agreement involves what GM calls "special coverage adjustments," but 2010-2012 Chevy Equinox and GMC Terrain customers already had access to three of those adjustment programs before the lawsuit settlement agreement was proposed.
— Adjustment 14159 is offered for 2010 Terrain and Equinox SUVs and provides free piston assembly replacements for 10 years or 120,000 miles after initial sale or lease.
— Adjustment 15285 is for 2011 Equinox and Terrain vehicles and provides free piston assembly replacements for seven years and six months or 120,000 miles after initial sale or lease.
— Adjustment 16118 applies to 2012 Terrain and Equinox SUVs and provides free piston assembly replacements for seven years and six months or 120,000 miles after initial sale or lease.
In addition, General Motors had already issued a technical service bulletin in 2016 that covered 2011 Chevrolet Equinox and 2011 GMC Terrain SUVs.
The lawsuit settlement does add a new special coverage adjustment for 2013 models, but owners and lessees must meet certain requirements to take advantage of this program.
According to the oil consumption settlement:
"Under the New SCA [special coverage adjustment], subject to its express terms, conditions and time and mileage limits, Settlement Class Members may take their Class Vehicles to authorized GM dealerships for free diagnoses and, if diagnosed as currently consuming excessive oil within New SCA time and mileage limits, receive free piston assembly replacement."
Equinox and Terrain customers could also be reimbursed for certain expenses related to replacing the piston assemblies, but only if specific conditions are met.
"Reimbursable expenses include expenses covered explicitly by the applicable SCAs as well as certain other out-of-pocket expenses, including for the avoidance of doubt reasonable rental car charges supported by documentation showing that such charges were incurred during the period that Class Vehicles were at a dealership or repair shop for piston assembly repairs related to oil consumption, and that such expenses were incurred within SCA time and mileage limits."
The attorneys who crafted the original settlement terms on behalf of GM customers will receive $3.5 million if the settlement is approved.
At least 70 GM customers objected to the GM oil consumption settlement and more than 1,700 customers opted out of the agreement entirely, claiming the settlement is lousy for customers.
Customers who objected to the settlement agreement said lawyers on both sides need to explain if the automaker will reimburse owners and lessees for engine replacements caused by faulty piston rings.
The objectors told the judge the proposed settlement doesn't cover complete engine replacements caused by oil consumption problems due to the piston rings.
Objectors also pointed out how GM will call the shots on which owner claims are accepted or denied, leaving the automaker capable of rejecting legitimate claims and leaving customers with no legal recourse.
In declining to approve the settlement, Judge Robin L. Rosenberg told both sides to submit new more "robust" settlement terms by October 25, 2019. The judge also wants any new proposed settlement to include details about contacting all affected customers again, including owners and lessees who opted out of the proposed agreement.
The GM oil consumption class action lawsuit is being heard in the U.S. District Court for the Southern District of Florida - Berman, et al., v. General Motors, LLC.
The plaintiffs are represented by Greg Coleman Law PC, Ahdoot & Wolfson, PC, and Whitfield Bryson & Mason LLP.