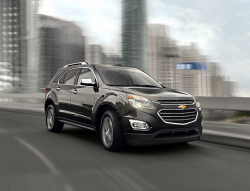 — A Chevy Equinox oil consumption lawsuit alleges the 2.4-liter engines use as much as one quart of oil per 1,000 miles in 2010-2017 model year SUVs.
The lawsuit alleges GM knew or should have known the SUVs are defective because of oil consumption problems but concealed the problems from consumers.
One of the lead plaintiffs, James Andrews, says he purchased a used 2012 Chevrolet Equinox from a California used car dealer on January 14, 2017, when the SUV had 65,551 miles. In January 2017 and with about 66,500 miles on the odometer, Andrews noticed the Equinox would start to subtly rock back and forth when coming to a stop.
In addition, he says he started hearing a ticking noise when he would start the SUV. In February the rocking feeling allegedly got worse with the SUV "bucking noticeably back and forth when coming to a stop."
Andrews says he had a local mechanic come to his home and check the oil level, and the mechanic allegedly found over three-quarters of his vehicle's oil had already been consumed despite driving only 1,000 miles. The plaintiff learned that GM had issued a service bulletin about oil consumption, so he took the Equinox to a GM dealer to find out if it could be fixed.
According to Andrews, the GM technician said there was no recall on the SUV and the plaintiff says the technician never mentioned anything about an oil consumption bulletin.
The plaintiff says he was concerned about the service bulletin and read complaints online from other Equinox owners who allegedly experienced the same oil consumption problems.
In April 2017 and with about 71,000 miles on his vehicle, Andrews says he had a regular oil change performed by his local mechanic who noticed the SUV had consumed an excessive amount of oil since the last oil change.
The plaintiff contacted GM directly about the oil consumption and received a notice from GM that if the Equinox exhibited excessive engine oil consumption (less than 2,000 miles per quart of engine oil) due to piston ring wear, "GM would extend his warranty to remedy the issue within 7 years and 6 months of the date the vehicle was originally placed in service or 120,000 miles."
GM's letter says:
"[t]his letter is intended to make you aware that some 2012 model year Chevrolet Equinox vehicles, equipped with a 2.4L engine, may exhibit excessive engine oil consumption (less than 2,000 miles per quart of oil), due to piston ring wear. If this condition is present, an audible rattle or knock from the engine may be heard. The engine oil pressure telltale may illuminate on the instrument panel or the following message may appear in the Driver Information Center: "Oil Pressure Low-Stop Engine."
Andrews took the letter to a GM dealer and asked them to fix the SUV, but the service manager allegedly said the plaintiff would need to bring the Equinox into the dealership every 500 miles for a total of 2,000 miles to have his oil level checked. Andrews says he found this response unacceptable, so he contacted GM's corporate offices.
GM's Customer Assistance told Andrews the accepted rate of oil consumption for engines used in vehicles such as his is 2000 miles per 1 quart of oil and all oil consumption tests had to be done at a Chevrolet dealership.
The plaintiff never had the oil consumption test performed, so he checks his oil every 2 to 3 days and his mechanic changes his oil every 2,000 miles. Andrews also says he is afraid to take the Equinox on long trips because of the alleged oil consumption problems.
General Motors told the judge that Andrews decided to sue the automaker instead of having the oil consumption test performed by a dealer.
"So assuming arguendo that Andrews is correct about his oil consumption rate (which GM does not know because he would not permit it to be tested), the alleged "time-consuming" oil checks and changes and fear of "long trips" are the result of his own conduct and could have been avoided entirely if he had agreed to have his vehicle tested and, if eligible, repaired at no cost."
The lawsuit says the Equinox oil consumption problems not only caused GM to extend the warranty on the 2012 model, but the automaker also issued technical service bulletin (TSB) 15285C for 2011 Chevy Equinox SUVs that said:
"[s]ome 2011 model year Chevrolet Equinox and GMC Terrain vehicles, equipped with a 2.4L engine, may exhibit excessive engine oil consumption (less than 2,000 miles per quart of engine oil), due to piston ring wear."
The bulletin said an oil consumption test was required to determine if the pistons and rings would need to be replaced.
According to the class-action lawsuit, GM has a duty to disclose the oil consumption problems but continues to conceal the defect from consumers.
Owners of 2012 Equinox SUVs tell CarComplaints.com that GM dealers know about the oil consumption problems and are just as responsible as the manufacturer for causing owners headaches.
"Have to go every 1000 miles for a oil consumption check. Just fix this thing, I don't have time to sit for an hour every 1000 miles while they check a problem they know is wrong. I need to contact GM directly and flip out before I drive this car into a wall, that will fix it. This issue was happening from the day I bought this car from Berger Chevy and they played stupid and sold it anyway. A dealer that sells bad cars knowing they are bad is bull sh*t. The seller is just a responsible as GM themselves." - 2012 Chevrolet Equinox owner / Grand Rapids, Michigan
The Chevrolet Equinox oil consumption lawsuit was filed in the U.S. District Court for the Northern District of California - James Andrews and Ryan Hindsman, et al., v. General Motors LLC.
The plaintiffs are represented by Ahdoot & Wolfson, P.C., Greg Coleman Law, and Whitfield, Bryson & Mason LLP.
Read Chevy Equinox complaints about oil consumption problems: