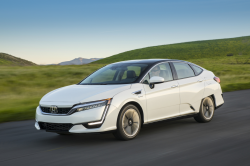 — A Honda Clarity Fuel Cell recall has been issued over electric water pump problems for the cars that are located only in California.
Honda says 1,082 model year 2017-2018 cars have water pumps that can fail to circulate water to cool the fuel cell stacks. The magnets attached to the rotor cores inside the pumps were not properly surface-treated and may corrode from water exposure.
Magnet corrosion can disable the electric water pump and illuminate the warning light. In addition, the Fuel Cell car will enter limp mode or lose power and come to a stop.
The automaker has received two warranty claims and nine field reports, but no reports of injuries or crashes related to the problem.
Just like previous recalls, only 12 Honda dealers in California are qualified to work on the Fuel Cell cars, work that will involve replacement of the water pumps.
The Honda recall is expected to begin June 10, 2019.
Owners of 2017-2018 Honda Clarity Fuel Cell cars may contact Honda at 888-234-2138. Honda's number for this recall is L4N.