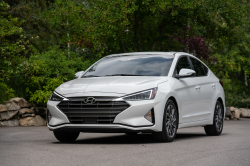 — Model year 2020 Hyundai Elantra cars are recalled because the lower control arm ball joint fasteners may not be tight enough.
This can allow the ball joint to detach from the lower control arm and send a driver scrambling on how to control the car.
Hyundai says 744 Elantras are affected, and all need the ball joint fasteners checked to make sure they are properly tightened.
The Hyundai Elantra recall is expected to begin December 27, 2019.
Elantra owners who are concerned about their cars should call Hyundai at 855-371-9460 and ask about recall number, 185.
The 2020 Hyundai Elantra was recalled twice today, with the other Elantra recall ordered to tighten lug nuts that may come loose and cause the wheels to detach.
CarComplaints.com has owner-reported complaints about Hyundai Elantra cars.