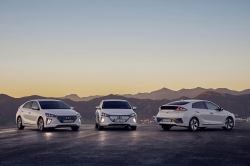 — The same day Hyundai recalled model year 2020 Elantras for one problem, an entirely different problem has caused the automaker to recall its 2020 Elantra cars, along with 2019 Ioniq Hybrids.
Hyundai says 48 vehicles are affected by the recall ordered to fix problems that can cause the wheels to detach from the vehicles. Not a good sign for vehicles that recently left the assembly lines.
According to Hyundai, the right rear lug nuts may not have been tightened enough to prevent the wheels from coming loose.
Hyundai apparently needs to check their production methods and practices because the other 2020 Elantra recall issued today involves parts that weren't properly tightened.
The lug nut recall will require Hyundai dealerships to inspect and tighten the lug nuts once the recall begins December 27, 2019.
If you own a 2020 Hyundai Elantra or 2019 Hyundai Ioniq Hybrid and want to learn more, call the automaker at 800-251-0871. Hyundai's number for this recall is 184.
CarComplaints.com has complaints from drivers of Hyundai Elantra and Hyundai Ioniq Hybrid vehicles.