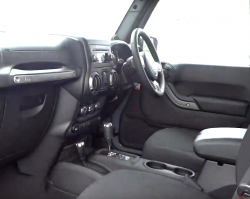 — Jeep Wrangler right-hand-drive (RHD) SUVs are under a federal investigation to determine if there are problems related to the driver's side seat belts.
The National Highway Traffic Safety Administration (NHTSA) says three reports have been received about seat belts in 2015-2016 Wrangler RHD vehicles.
"The seat belt broke loose from the floor. The metal part that was screwed to the floor actually broke away from the screw. Less than 47,000 miles. But I think this is a safety issue and a seat belt should never break!! I was sitting still simply putting on my belt"
"While putting on the seat belt the anchor bracket just broke off right above the bolt. I bought the car new in 2016 and only has 62,300 miles. But this part should never ever break."
"I buckled my seatbelt and felt it slip as if it had come unbuckled. The seatbelt was latched, but the metal between the latch and the seat frame had broken in two. The only thing holding the seatbelt latch was the wire and its covering. Vehicle was stationary when I noticed the problem."
The right-hand-drive Jeep Wranglers are typically used in the U.S. for postal carriers, especially in rural areas. But separations of the seat belts from the brackets that secure to the seat frames make the seat belts worthless.
All three reports claim the separations occurred while the seat belts were being secured, but NHTSA says it doesn't know of any crashes or injuries related to the seat belt problems.
About 4,900 model year 2015-2016 Jeep Wranglers are included in the investigation.
CarComplaints.com will update our website with results of the Jeep Wrangler right-hand-drive federal investigation.
Read what drivers say about their Jeep Wranglers.