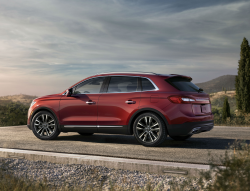 — A 2016-2017 Lincoln MKX recall has been ordered for nearly 60,000 SUVs equipped with 3.7-liter engines over the risk of overheated wiring and fires, with three fires already reported.
The SUVs have battery cable harnesses that may not have the proper clearance, allowing the harnesses to make contact with the transmission shifter cable brackets.
The improper contact can cause the cable insulation to wear through and cause a short-circuit to the ground. This is what can cause overheated and melted wiring that can lead to fires.
About 54,411 of the recalled Lincoln MKX SUVs are in the U.S. and another 5,253 are in Canada, and all were built between November 12, 2014, and September 11, 2017.
Although three fires have been reported, Ford is unaware of any crash or injury reports.
Lincoln dealerships will remove the four battery harness clips at the battery trays and one of the elbow guides, then install wire channel shields and protective sleeves to the battery cable harnesses.
Lincoln MKX customers may call 866-436-7332 and ask about recall number 19S41.