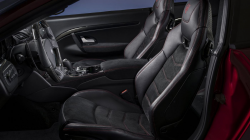 — A Maserati Granturismo recall for about 780 vehicles has been issued to fix problems that can cause the airbags to deploy without crash impacts, or fail to deploy in crash impacts.
The 2015-2018 Granturismo and 2016-2018 Granturismo Convertible vehicles may have airbag electronic control units with defective power supply capacitors.
According to Maserati, the airbag electronic control unit with a faulty power supply capacitor may not manage the voltage of the 5V supply. This will cause an incorrect function of the control unit and trigger an airbag to deploy when it shouldn't. It may also cause an airbag to fail right when it's needed in a crash.
The airbag electronic control units were manufactured by ZF Group which contacted Maserati about the defective capacitors. The automaker opened an investigation but even looking at warranty data Maserati couldn't find any problems.
However, although no crashes, injuries or warranty claims have been reported, the automaker decided to be on the safe side and recall the vehicles.
A driver may have some warning of a problem by the airbag warning light being illuminated, but there is no guarantee the light will activate.
In the U.S. Maserati recalled 739 vehicles and in Canada another 42 Granturismos are recalled.
The Granturismo recall is expected to begin July 30, 2019, when dealers will replace the airbag electronic control units.
Owners with questions should call 877-696-2737 and refer to recall number 386.