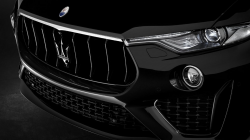 — A 2019 Maserati Levante recall has been ordered for more than 460 SUVs equipped with LED headlights with adaptive front lighting systems.
The LED headlights may be misadjusted above the maximum height allowed, possibly causing problems for oncoming drivers at night.
About 425 SUVs are recalled in the U.S. and 40 are recalled in Canada.
The 2019 Maserati Levante recall is expected to begin in the U.S. August 26, 2019. Maserati dealerships will adjust the LED headlights.
Levante owners may contact Maserati customer service at 877-696-2737. Maserati's number for this recall is 387.