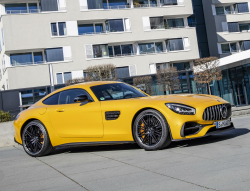 — More than 770 model year 2016-2017 Mercedes-Benz AMG GT S cars may have driveshafts that separate while driving.
About 660 vehicles are recalled in the U.S. and 115 are recalled in Canada. Mercedes says the bonding between the carbon-fiber driveshafts and the engine/transmission flanges may not be strong enough.
Mercedes-Benz says the recall is expected to begin August 13, 2019. Dealerships will need to replace the driveshafts, including the flanges.
AMG GT S owners may call the automaker at 800-367-6372.