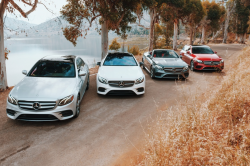 — A Mercedes-Benz E-Class recall will attempt to ensure the rear spoilers don't detach and fly off the vehicles.
The automaker says the spoilers could possibly fly off any of more than 5,000 model year 2019 E450 4Matic Wagons, 2017-2018 E400 4Matic Wagons and 2018-2019 E63S 4Matic Wagons.
Mercedes says the tailgate spoilers may not have been attached according to specifications and at higher speeds may completely detach and cause road hazards or injuries to others.
A report was filed in October 2018 about a spoiler that completely detached and Mercedes determined a temporary employee mounted the spoiler incorrectly. A recall was issued in December 2018 for 16 vehicles in the U.S. and another employee was added to the work station.
However, Mercedes continued to receive complaints about detached spoilers and engineers opened investigations to determine if the vehicles had already been recalled. But Mercedes found the affected vehicles hadn't been recalled and the problem wasn't caused by the single temp employee.
Mercedes says the production processes have been improved and it's likely only a small percentage of vehicles are at risk of losing their spoilers.
A driver may have advance warning of a problem if they hear rattling noises.
About 4,675 E-Class Wagons are recalled in the U.S. and another 564 are recalled in Canada.
The rear spoiler recall is scheduled to begin in the U.S. October 18, 2019. Mercedes customers with questions should call 800-367-6372.
Customers in Canada may call 800-387-0100.