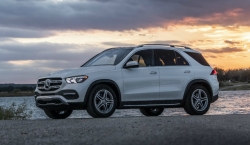 — Mercedes-Benz is recalling more than 800 GLE350 and GLE450 SUVs in two recalls, the largest which includes 753 vehicles that may have holes in the floors.
The 2020 GLE350 4Matic and GLE450 4Matic vehicles may have suffered from welding mistakes during production, errors that can allow water to leak into the cabins.
Drivers will really have problems if water hits electrical components and causes electrical short circuits.
About 63 vehicles are recalled in Canada while the remaining vehicles will be repaired in the U.S.
Mercedes dealers will seal any holes found in the floors.
The same GLE vehicles are part of a second recall of only 11 SUVs to fix problems that can cause airbag problems.
Mercedes-Benz says the airbags in the 2020 models may fail in crash impacts while the temperatures in the cabins are very high.
Mercedes dealerships will replace the passenger airbag modules, but owners affected by either recall may call 800-367-6372.