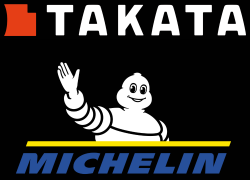 — Michelin North America and Takata Corp. chalked up a win in an $80 million lawsuit that alleged a defective Michelin tire and faulty Takata seat belt buckles caused life-changing brain injuries in the crash of a 2005 Chevrolet Trailblazer.
The lawsuit was filed after the single-vehicle crash of a Trailblazer in Fort Pierce, Florida, on April 9, 2009.
According to the lawsuit, the Trailblazer was traveling on I-95 when the SUV went out of control and overturned 3 1/2 times. Two teenagers (ages 14 and 16) in the rear seats were ejected during the crash and left with severe brain injuries.
The plaintiffs sued Takata and Michelin North America for $80 million alleging a blown tire caused the crash and defective seat belt buckles caused the children to be ejected from the Trailblazer.
According to the lawsuit, the Takata seat belt buckles could unlatch in a rollover crash if the elbows of occupants unintentionally hit the release buttons.
Takata argued the evidence showed the teens weren't wearing their seat belts at the time of the crash and that's what caused them to be ejected from the vehicle as it rolled over. Additionally, Takata provided evidence the seat belts and buckles met all federal safety standards.
As for Michelin, the company was accused of manufacturing a defective tire that caused a blowout and the subsequent rollover of the Trailblazer. However, Michelin told the jury the tire was never defective and the company provided evidence the tire had been previously damaged and then sold used.
The company also showed the jury evidence the 2005 Trailblazer could easily be controlled even if a tire was disabled. Although the tire maker said it regretted the "tragic accident and the devastating effects" it had on the family, the fault of the crash rested solely on the driver who lost control.
Following a two-month trial, a Florida jury returned a unanimous verdict in favor of Michelin North America and Takata by finding the tire and seat belt buckles were not defective and were not responsible for the crash or injuries.
Attorneys for the plaintiffs appealed to the Florida District Court of Appeal, Fourth District, which on April 4, 2019, affirmed the jury's verdict.
The Michelin and Takata lawsuit was filed in the Circuit Court of the Nineteenth Judicial Circuit in and for St. Lucie County, Florida - Dukes v. Michelin North America Inc., et al.