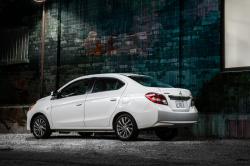 — More than 27,000 Mitsubishi Mirage G4 cars are recalled because all the airbags may become disabled at the same time.
The 2017-2018 Mirage G4s have acceleration sensors in the airbag electronic control units that may misinterpret vibrations as malfunctions of the systems.
The automaker says rough road conditions or flat tires are enough to disable all the airbags.
Mitsubishi traced the problem back to 2014 when a report came in about an airbag warning light illuminated on a Mirage. The automaker opened an investigation and received 19 more complaints about the same problem.
Engineers examined returned airbag electronic control units but couldn't find the cause of the illuminated warning lights.
More tests followed and two field investigations in 2017 were conducted to determine the role vibrations played in the incidents. Engineers found that driving on a flat tire caused at least one of the cars to show an activated airbag warning light.
Mitsubishi started working on a software fix, but by June 2017 at least 39 reports were filed about the warning lights and some of the vehicles never suffered flat tires.
Mirage G4 cars don't seem to be nearly as prone to the problems compared to Mirage hatchbacks, but Mitsubishi says it wants to play it safe with the cars.
More than 26,000 of the cars are recalled in the U.S. and 1,330 are recalled in Canada.
The 2017-2018 Mirage G4 recall is underway for dealerships to reprogram the airbag electronic control unit software.
Customers with questions should call 888-648-7820 and ask about recall number SR-19-001.
Read what drivers have told CarComplaints.com about Mitsubishi Mirage cars.