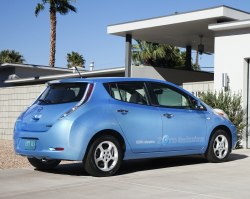 — A Nissan LEAF "passenger airbag off" investigation has been opened into 2011-2012 LEAF cars with occupant classification system (OCS) sensors that fail and deactivate the passenger airbags.
About 19,500 LEAF electric cars are included in the investigation headed by the National Highway Traffic Safety Administration (NHTSA).
The safety agency received a petition to investigate 2011 Nissan LEAF cars after owners complained about passenger airbags that switched off when they should have been active.
LEAF customers report illuminated airbag warning lights for the front passenger seats due to failures of the airbag sensors, also called "mats."
The petitioner says the average cost to repair the passenger airbag problem is at least $3,000 and in some cases will cost at least $5,000. Once the passenger airbag indicates the system is turned off, the only way to replace the sensor is to replace the passenger seat.
One Nissan LEAF owner told NHTSA the occupant sensor failed and showed the diagnostic trouble code, B1013. The customer was told the entire seat would need to be replaced for $3133.51.
Another LEAF driver complained about the airbag warning light illuminating and showing B1018 as the trouble code, indicating failure of the passenger occupancy sensor. The code was reset but days later the trouble code reappeared and couldn't be reset.
The customer was told it would cost at least $3,000 to fix the passenger airbag problem, an amount more than half the value of the entire car. According to the LEAF owner, they contacted Nissan but the automaker refused to pay anything toward repairs.
Nissan recalled 2013-2016 LEAFs in 2016 because of airbag problems, but 2011-2012 models weren't included because the passenger airbag occupant classification systems are different.
The defect petition requests an investigation into 2011 LEAF cars, but NHTSA determined 2012 LEAFs use the same airbag sensors for the passenger seats, then in 2013 Nissan changed the design for the sensing systems.
NHTSA says there are no reports of injuries or fatalities related to the airbags deactivating as the warning lights activate, but safety regulators say the investigation is needed to determine if Nissan should recall nearly 20,000 cars.
CarComplaints.com will update our website with results of the Nissan LEAF passenger airbag investigation.
CarComplaints.com has customer complaints about the 2011 Nissan LEAF, 2012 Nissan LEAF and other LEAF model years.