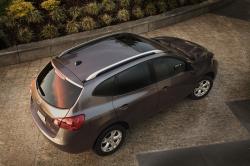 — The Arizona Court of Appeals has affirmed the dismissal of a Nissan Rogue automatic emergency braking lawsuit filed in Maricopa County Superior Court.
The lawsuit was filed by Antea Dashi after she was injured in an April 2015 crash that occurred as she was making an illegal U-turn.
According to court documents, Dashi was driving her Honda Accord on a one-way street when she missed her exit. Instead of taking side streets to get where she was going, she made an illegal U-turn to return to the exit against oncoming traffic.
Because of her illegal U-turn, a second vehicle had to stop behind Dashi's Honda Accord, and a third vehicle (2008 Nissan Rogue) followed behind the second vehicle. However, the Rogue driver didn't know about Dashi's illegal turn and swerved around the second vehicle, crashing into Dashi's Accord and causing her serious head injuries.
Although Dashi was the driver performing an illegal maneuver by making the U-turn, she filed a lawsuit against Nissan because the Rogue that hit her wasn't equipped with automatic emergency braking, or what is sometimes called crash imminent braking (CIB).
Automatic emergency braking "uses information from forward-looking sensors to determine whether or not a crash is likely or unavoidable" and warns the driver to "brake and/or steer to avoid a crash or minimize the force of the crash."
But the technology will "apply the brakes in driving situations in which a crash is likely or unavoidable and the driver makes no attempt to avoid the crash."
According to the lawsuit, Nissan's failure to install automatic emergency braking "rendered the 2008 Nissan Rogue unreasonably dangerous and defective."
The National Highway Traffic Safety Administration (NHTSA) says the technology shows promise in reducing the severity of a crash impact or possibly avoiding a crash completely.
But the government hasn't mandated that automakers equip their vehicles with automatic emergency braking, meaning Nissan has the right to manufacture a vehicle without the technology.
In addition, a consumer has the right to purchase a vehicle even if it isn't equipped with automatic emergency braking.
NHTSA says there is room to improve automatic emergency braking technology before the federal government settles on a concrete formal standard.
Nissan said the lawsuit should be dropped because Dashi's claims were preempted under federal law. The argument succeeded because the superior court judge dismissed the suit.
"NHTSA decided '[vehicle] manufacturers [should have] options with regard to which [automatic braking] safety features to adopt.' This 'preempts the state court tort action based on whether the lack of FCW [forward collision warning] and [CIB] technology renders the 2008 Nissan Rogue as defective." - Judge Kerstin G. LeMaire
Attorneys for Dashi appealed the superior court decision, but the three-judge appellate court ruled Superior Court Judge LeMaire made the correct decision to dismiss the lawsuit.
"If successful, Dashi's design-defect and negligence claims would impose a duty on manufacturers whose vehicles drive in or through Arizona to install forward collision warning and crash imminent braking systems, or face liability from Arizona juries for making and peddling uncrashworthy vehicles. Dashi's claims would frustrate NHTSA's federal regulatory objectives by thrusting a jury-imposed AEB [automatic emergency braking] standard on Nissan inside Arizona's borders." - Judge David D. Weinzweig