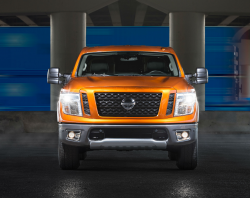 — A Nissan Titan recall has been ordered to repair problems with alternator harnesses that could cause electrical short circuits and fires, or what Nissan calls, "thermal incidents."
More than 101,700 model year 2017-2019 Titan trucks may have harnesses that may have been damaged when the engines were installed.
When the VK56 engines were lowered into place, the alternator harnesses may have made contact with the edges of the metal frame brackets. Nissan says this could cause the harnesses to pull away from their normal routing paths.
The alternator harnesses have shields, but the wiring can become damaged if the harnesses get trapped against the brackets.
If wiring problems occur a driver will likely notice electrical issues such as flickering interior lights or the radio working only part of the time. This can prevent the battery from charging, leading to a discharged battery that may fail while in traffic.
Once the battery voltage has dropped enough to trigger electrical problems, the truck will operate at reduced power and the engine may stall. But this is minor compared to the risk of engine compartment fires, although Nissan says it's a rare event.
More than 91,300 of the Titan trucks are in the U.S. and about 10,400 are in Canada.
The Nissan Titan recall is expected to begin July 23, 2019, when dealerships will inspect the alternator harnesses to make sure they are routed correctly and aren't damaged.
Based on what technicians find, it's possible the harnesses will be clipped or replaced.
Nissan Titan truck owners with questions should call 800-867-7669.
CarComplaints.com has owner-reported complaints about Nissan Titan trucks and many other Nissan vehicles.