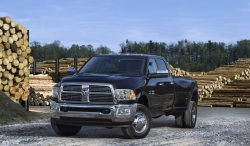 — A Dodge Ram emissions lawsuit will proceed after a federal judge upheld most claims related to Ram 2500 and 3500 diesel trucks that may be equipped with emissions defeat devices.
The class action lawsuit alleges Fiat Chrysler (FCA US) and engine manufacturer Cummins conspired to cheat on emissions tests in the following Ram 2500 and 3500 trucks.
(Note: Dodge made "Ram" its own brand in 2012)
2007-2010 Dodge Ram 2500
2011 Dodge Ram 2500
2012 Ram 2500
2007-2010 Dodge Ram 3500
2011 Dodge Ram 3500
2012 Ram 3500
The lawsuit was dismissed in 2018, but U.S. District Judge Terrence G. Berg allowed the plaintiffs to amend their complaint concerning claims of violating fraud, consumer protection and contract laws. In addition, the plaintiffs alleged in their amended lawsuit violations of warranty and racketeering laws.
The judge gave the green light to the class action by upholding all the plaintiff's claims except breach of warranty violations.
According to Judge Berg, claims of false advertising are enough to show Chrysler may have intentionally mispresented the trucks in violation of state consumer protection laws.
The plaintiffs also convinced the judge FCA may have concealed emissions defeat devices in the Ram trucks knowing consumers would have second thoughts about purchasing the trucks.
According to the lawsuit, Chrysler and Cummins colluded to manufacture and sell Ram trucks that meet federal emissions standards, but those standards were met only because the trucks were illegal.
All the 2500 and 3500 trucks are equipped with Cummins 6.7-liter diesel engines, trucks the plaintiffs say cost them about $9,000 too much compared to gasoline-powered engines.
According to attorneys for the plaintiffs, they tested three Ram 2500 trucks and determined in stop-and-go driving nitrogen oxide emissions were 4.4 times the standard for a 2007 model year truck. A 2009 Dodge Ram 2500 allegedly emitted 5.3 times beyond standards and 3.8 times above standards for a 2012 Ram truck.
The Ram emissions lawsuit was filed in the U.S. District Court for the Eastern District of Michigan - James Bledsoe, et. al., v. FCA US LLC, and Cummins Inc.
CarComplaints.com has complaints about the trucks named in the Ram emissions lawsuit: