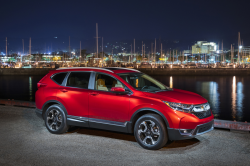 — A Honda CR-V recall has been issued for 348,000 model year 2019 SUVs because of mistakes in the owner's manuals.
Honda says the 2019 CR-V owner's manual has the wrong information concerning the passenger airbag warning light.
The automaker says the "Passenger Airbag Off" warning light should illuminate if there is no passenger in the seat. But the owner's manual wrongly says the warning indicator should not illuminate if the seat isn't occupied.
A customer contacted Honda about the mistake found in the manual, causing the automaker to open an internal investigation that determined the CR-V manual was wrong.
According to Honda, the mistakes in the owner's manuals violate federal safety regulations (FMVSS 208, Occupant Crash Protection, S4.5.1 Labeling and Owner's Manual Information).
The incorrect information can also confuse occupants, something that can be fixed by adding adhesive inserts into the manuals.
The 2019 Honda CR-V recall is expected to begin November 15, 2019, but a visit to the dealer won't be necessary. Honda will mail new inserts to CR-V owners to place into the manuals.
If you own a 2019 Honda CR-V and have questions about the recall, please call 888-234-2138 and refer to recall number X6G.