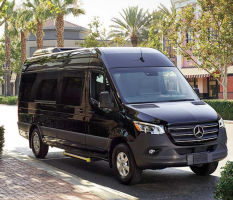 — Daimler Vans is recalling nearly 10,000 Sprinter vans because of problems with the tail lights.
Recalled are 2019 Mercedes-Benz and Freightliner Sprinter 1500, 2500, 3500 and 4500 vans with manual turn switches. If the switch activates the vehicle lights and is turned quickly from one lighting position to another, the brightness of the tail lights can go extremely dim or possibly completely shut down.
Mercedes learned of the problem at a production plant during tests conducted prior to the vans leaving the facility. Engineers determined an incorrect software version had been used, but Mercedes had to determine the consequences of using the wrong software.
Daimler eventually found that by quickly moving the manual lighting switch, the brightness of the tail lights is affected, but moving the switch slowly has no effect.
Mercedes says although the tail lights may go out, the brake lights will continue to function.
Mercedes couldn't rule out safety problems associated with the tail lights, although no customers complained about the lights.
Nearly 8,250 of the recalled vans are in the U.S. and another 1,672 are in Canada.
Mercedes-Benz will notify customers in September 2019 with directions to get the vans to dealerships so the body control unit software can be updated.
Affected Sprinter van customers may call 800-367-6372 and refer to recall number VS3HELI.