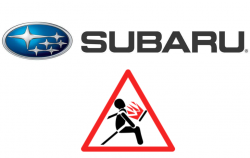 — Subaru is recalling 783,000 vehicles to replace dangerous Takata airbag inflators in two recalls that include the 2010-2014 Subaru Tribeca, WRX, Legacy, 2010-2011 Subaru Impreza and 2010-2013 Subaru Forester.
The Takata passenger frontal airbag inflators contain ammonium nitrate used as the propellant that deploys the airbags in crash impacts, but the chemical can become unstable and explode. Even a minor crash can cause the metal inflators to explode into sharp pieces of metal.
Nearly 453,000 of the vehicles are recalled if they were sold or registered in the following states:
Alaska, Colorado, Connecticut, Idaho, Iowa, Maine, Massachusetts, Michigan, Minnesota, Montana, New Hampshire, New York, North Dakota, Oregon, Rhode Island, South Dakota, Utah, Vermont, Washington, Wisconsin and Wyoming.
In a separate Takata recall of the same Subaru vehicles, more than 330,000 are recalled in these areas:
Arizona, Arkansas, Delaware, District of Columbia, Illinois, Indiana, Kansas, Kentucky, Maryland, Missouri, Nebraska, Nevada, New Jersey, New Mexico, North Carolina, Ohio, Oklahoma, Pennsylvania, Tennessee, Virginia and West Virginia.
Owners should have received recall notices explaining how Subaru dealers will replace the front passenger airbag inflators.
With questions please call the automaker at 844-373-6614.