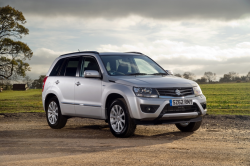 — A Suzuki Kizashi and Grand Vitara recall includes about 41,000 cars and SUVs with front leather passenger seats that may shrink and cause airbag problems.
About 31,000 of the vehicles are in the U.S. and another 9,700 are recalled in Canada.
The U.S. recall includes the 2010-2013 Suzuki Kizashi and 2006-2013 Grand Vitara, while affected vehicles in Canada include the 2011-2013 Suzuki Kizashi and 2006-2013 Grand Vitara.
The vehicles may fail to detect if adults or children are sitting in the front passenger seats. This will cause the airbag to deploy in a crash even if a child is in the seat, possibly causing more harm to the child than the crash.
The other problem is how the airbag may fail to deploy if an adult is in the passenger seat, leaving the passenger unprotected in a crash.
The automaker found the leather surface of the front passenger seat can shrink and put pressure on the sensor mat of the occupant classification system related to the airbag system.
Suzuki first received a sign of problems in November 2011 when a field report arrived about an illuminated airbag warning light in a Kizashi. Engineers studied the seat cushion and the supplier studied the occupant classification system mat and bottom seat cushion. However, the mat supplier couldn't find any problems.
No more reports were received until 2014 when a Suzuki Grand Vitara suffered the identical problem. Once again the parts were collected and once again no problems were found.
Another complaint was filed in 2015 and two more in 2016 before the automaker noticed the leather seat cover didn't look right. It was determined the leather could shrink if it got wet and then was dried by high heat, but engineers didn't think the problem would occur inside a vehicle.
Additional Kizashi and Grand Vitara complaints were filed by the end of 2017, but Suzuki still couldn't understand how the leather was shrinking.
The investigation continued and it was finally determined large variations in ambient temperatures and humidity could shrink the leather. According to Suzuki, there have been no reports of injuries related to the faulty occupant classification systems.
If the system interprets there is a child in the front passenger seat when the seat is vacant, the "PASS AIR BAG OFF" indicator and passenger seat belt reminder light will be illuminated and the seat belt reminder chime will activate.
However, if the occupant detection system indicates an adult is in the front passenger seat when the seat is occupied by a child, the "PASS AIR BAG OFF" indicator will not be illuminated.
Suzuki doesn't know when the Kizashi and Grand Vitara recall will begin, but concerned U.S. owners may call 800-934-0934. Suzuki's recall numbers are 4011 and 4012.
Canadian customers with questions should call 866-828-7252.
CarComplaints.com has owner-reported complaints about the Suzuki Kizashi and Suzuki Grand Vitara.