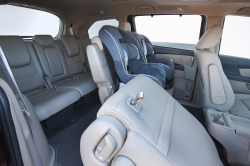 — A woman who was left a quadriplegic after a 2015 crash of a 2011 Honda Odyssey has been awarded more than $37 million by a Texas jury who found Honda guilty of manufacturing a faulty seat belt.
Sarah Milburn, 27, was with friends in Dallas when they called for an Uber ride. She took a seat in the middle third-row and buckled the seat belt before the Odyssey minivan driver ran a red light and was hit by a Ford F-150.
Milburn suffered a broken neck and was left a quadriplegic, but no other occupants were seriously injured in the crash.
Local media reports at the time said no charges were filed against the Uber driver even though he drove the Honda Odyssey through a red light. He also wasn't named as a defendant in the lawsuit even though he ran the red light and caused the crash.
However, the jury found him 32 percent responsible for the crash while jury members placed the majority (63 percent) of fault on Honda. The jury assigned 5 percent of the blame to Sarah Milburn for not properly wearing the seat belt.
Based on Texas law, Honda is responsible for the entire verdict because the jury attributed more than 50 percent of the fault of Milburn's injuries to Honda.
According to the lawsuit, the seat belt is a two-part system where the occupant grabs a detachable shoulder strap from the ceiling and anchors it to the seat. The belt is then pulled across the hips and buckled.
In addition to finding Honda responsible for Milburn's injuries, the jury apparently played the role of federal safety regulators by finding, "regulations governing seat belts in passenger cars were inadequate to protect the public from harm."
Honda says Milburn would have never received her serious injuries if she would have properly worn the seat belt. The automaker also says it will appeal the verdict because the seat belt system for the middle third-row seat in the 2011 Honda Odyssey is similar in design to almost all comparable 2011 model year minivans.
In addition, Honda says the 2011 Odyssey seat belt system meets all federal safety standards.
The Honda Odyssey seat belt lawsuit was filed in the 116th Civil District Court of Dallas County - Sarah Milburn v. American Honda Motor Co. Inc.
The plaintiff is represented by Aldous \ Walker, and the PayneMitchell Law Group.