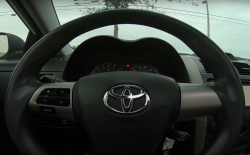 — A Toyota airbag recall has been issued as the final phase of Takata inflator recalls, with about 928,000 of the following vehicles included in the U.S.
2003-2013 Toyota Corolla
2009-2010 Toyota Corolla Matrix
2008-2012 Toyota Scion xB
2002-2007 Toyota Sequoia
2011-2013 Toyota Sienna
2010-2016 Toyota 4Runner
2004-2005 Toyota RAV4
2003-2006 Toyota Tundra
2007-2012 Toyota Yaris
2007-2012 Lexus ES 350
2010-2017 Lexus GX 460
2006-2012 Lexus IS 250/IS 350
2010-2015 Lexus IS 250C/IS 350C
2008-2009 Lexus IS F
2002-2010 Lexus SC 430
Toyota says the recall of driver and passenger Takata airbag inflators is ahead of the schedule set by the National Highway Traffic Safety Administration.
According to the automaker, the recalled vehicles were repaired during previous Takata airbag recalls when dealerships installed inflators that contained non-desiccated ammonium nitrate.
Toyota says previous recalls required the use of airbag inflators that contained ammonium nitrate without drying agents because the final replacement inflators weren't available. And while the current airbag inflators installed in the vehicles were manufactured by Takata, the final replacement inflators were built by other suppliers.
Dealerships will replace either the airbag inflators or the airbag assemblies, based on vehicle model.
U.S. Toyota customers should watch for recall notices in December 2019.
Concerned customers with questions about the Takata airbag recall should call Toyota at 800-331-4331 or Lexus at 800-255-3987.