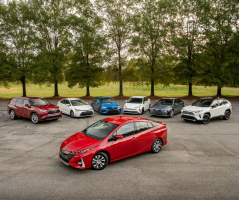 — Toyota has extended its hybrid battery warranty to 10 years or 150,000 miles for the following 2020 Toyota hybrid, plug-in hybrid and fuel cell electric vehicles.
2020 Toyota Prius
2020 Toyota Prius Prime
2020 Toyota Corolla Hybrid
2020 Toyota Camry Hybrid
2020 Toyota RAV4 Hybrid
2020 Toyota Avalon Hybrid
2020 Toyota Highlander Hybrid
2020 Toyota Mirai (fuel cell)
The previous hybrid battery warranty was 8 years or 100,000 miles, and components other than the hybrid battery will still retain coverage under the hybrid system warranty at 8 years or 100,000 miles, whichever occurs first.
The hybrid system warranty covers the following components:
Hybrid battery control module (battery voltage sensor)
Hybrid control module (power management control module)
Inverter with converter
A customer who wants to learn more should check their warranty and maintenance guide for the new vehicle limited warranty.
Drive any of the models listed above? Check out what drivers complain about with their Toyota vehicles.