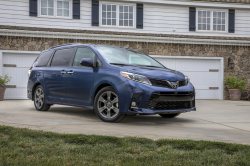 — A Toyota Sienna sliding door settlement has been approved by Judge Victor A. Bolden concerning the case between Toyota and customers who claim a 2016 recall of the minivans wasn't good enough.
Lawyers for the plaintiffs filed the class action after Toyota had recalled 2011-2016 Sienna minivans in 2016 because the power sliding doors could unintentionally open while driving. The plaintiffs claim the recall repairs weren't good enough to fix the sliding doors and the automaker should have included 2017-2018 minivans.
According to the lawsuit, the Sienna sliding door recall had dealerships replacing the junction boxes and motor wiring harnesses for the powered doors. But the plaintiffs said the recall didn't fix the problems with latches, locks and cables that could cause the doors to unintentionally open while driving.
Toyota agreed to a customer program for repairs to components of the power sliding doors for a period of 10 years from first use of the vehicle. Parts included in the program include hinges, locks, fuel door assemblies and door latches.
If a repair will take longer than four hours for technicians to complete, the automaker will provide a loaner vehicle to the Sienna customer.
The sliding door customer confidence program will reimburse Sienna owners who paid for certain sliding door repairs prior to March 1, 2019, as long as the customers can show proof of the expenses. Any Sienna customer who has already been reimbursed will not qualify for additional reimbursements.
2011-2018 Toyota Sienna parts eligible for reimbursements:
Sliding Door Cable Sub-Assembly
Sliding Door Center Hinge Assembly
Fuel Door Pin and Fuel Door Hinge
Sliding Door Front Lock Assembly
Sliding Door Rear Lock Assembly
Toyota already had warranty enhancement program ZH4 for 2011-2016 Sienna minivans because customers were complaining about the lock assemblies on the sliding doors.
ZH4 provides minivan owners with nine years of power sliding door warranty coverage from the date of first use of the minivans, but the coverage is now extended by one additional year. Model year 2017-2018 Sienna sliding doors are now also included for a period of 10 years from first use.
Lawyers for Sienna customers will receive $7 million.
The deadline to file a claim is August 2, 2019. Learn more by visiting ToyotaSiennaDoorSettlement.com.
The Toyota Sienna sliding door settlement was hammered out in the U.S. District Court for the District of Connecticut - Simerlein, et al. v. Toyota Motor Corporation, et al.
The plaintiffs are represented by Beasley, Allen, Crow, Methvin, Portis & Miles, P.C., DiCello Levitt, and Wolf Haldenstein Adler Freeman & Herz.
Read complaints about Toyota Siennas:
Toyota Sienna: 2011 / 2012 / 2013 / 2014 / 2015 / 2016 / 2017 / 2018