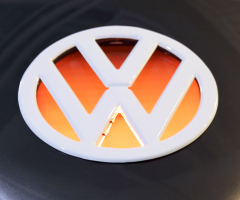 — A proposed Volkswagen settlement has been reached that may affect about 100,000 customers who purchased or leased gasoline-powered Audi, Bentley, Porsche and Volkswagen vehicles labeled and marketed with overstated fuel economy by up to 1 mile per gallon.
The lawsuit alleges software embedded in the transmission control unit activates when it senses certain conditions such as being started with the key and deactivates when the steering wheel is turned.
This means the software program typically operates during testing causing the transmission gears to change at lower engine speeds while requiring less fuel. But during normal road driving the program deactivates and causes a change in fuel economy by up to 1 mpg.
According to the proposed settlement terms, the amount of compensation each customer may receive is based on the difference in cost for the amount of gasoline that would have been required under the original window sticker and the greater amount required under the adjusted fuel economy label.
For qualified claims, the payments range from $518.40 to $2,332.80 for original owners who still own their vehicles as of the date the settlement motion was filed.
The formula used for the settlement is based on the vehicle being driven an average of 1,250 miles per month, which equals 15,000 miles per year. The settlement terms also indicate customers will be compensated for 96 months of extra gasoline.
Customers who want to receive compensation will need to submit claim forms and provide "sufficient supporting documentation to establish the dates during which they owned or leased their Class Vehicles (e.g., purchase agreement, sale documentation, and/or proof of current registration)."
Affected customers who are the original owners and continued to own the vehicles as of the date the settlement motion was filed will receive the maximum possible compensation. But all other customers will receive prorated compensation to account for the months they owned or leased their vehicles.
VW customers who held active leases as of the date the settlement motion was filed are eligible for compensation for all months in the full duration of their lease (even if the lease extends beyond the date of the settlement motion).
According to the proposed settlement terms, customers who purchased their vehicles used but owned them as of the motion will be entitled to compensation for the months they have owned their vehicles. This includes up to a total of 96 remaining months after their vehicles were first sold.
For remaining money not claimed by customers, the balance will be directed to "environmental remediation efforts."
Attorneys who filed the lawsuit have requested $26 million in fees and expenses.
The lawsuit was filed in the U.S. District Court for the Northern District of California - "Audi CO2 cases" consolidated in: In re Volkswagen 'Clean Diesel' Marketing, Sales Practices, and Products Liability Litigation.