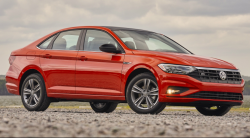 — Volkswagen says four 2019 Jettas have the wrong driver-side frontal airbags that were installed during repairs.
VW says the airbags may not deploy correctly if at all, something that dealers will fix by replacing the incorrect airbags.
Volkswagen will contact the four owners in April 2019, but drivers with questions may call 800-893-5298.
Volkswagen's number for this recall is 69Y7.
Check out what owners tell CarComplaints.com about their Volkswagen Jettas.