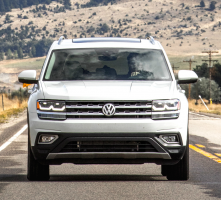 — Volkswagen is recalling more than 714,000 model year 2012-2020 Volkswagen Passat cars and 2018-2019 Atlas SUVs because the headlights could be adjusted by customers.
More than 662,000 of the recalled vehicles are in the U.S. and nearly 52,000 are in Canada.
According to federal safety standards, a headlight is not permitted to have a horizontal adjustment. To ensure the headlight can't be adjusted or aimed incorrectly, a cap is put in place after the headlight is adjusted in the factory.
Volkswagen says the vehicles may not have the required caps installed.
A headlight adjusted improperly can reduce visibility for the VW driver and possibly blind oncoming vehicles.
VW says the problem was caused by incorrect or missing work instructions related to the headlight caps on the Atlas and Passat vehicles.
The automaker says it discovered the problem in January 2019 when a factory realized certain instructions were missing while other instructions were incorrect. Changes were made during production to correct new vehicles coming off the lines, but VW knew a recall was necessary based on required safety standards.
VW dealers will inspect the left and right headlights to determine if the headlight adjustment caps are missing, but the automaker currently says a "repair method is under evaluation."
The recall is expected to begin July 10, 2019, but affected owners may call Volkswagen at 800-253-2834 and refer to recall number 94L9.
CarComplaints.com has owner complaints about the Volkswagen Atlas and Volkswagen Passat.