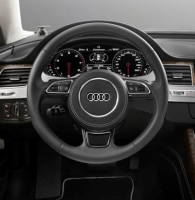 — Audi is recalling more than 1,000 A8 and S8 vehicles because the front passenger airbags may not have been folded correctly. The 2022-2023 Audi A8 and S8 airbag flaps inside the front passenger airbag modules were not folded correctly.
According to Audi the airbag will still function, but a small person or a child not wearing a seat belt while sitting close to the instrument panel could be hurt by the airbag.
Audi found the problem in 2022 while performing an out-of-position front passenger airbag test when the airbag didn't correctly unfold.
The test was repeated and showed the same outcome, so an additional monitoring step was put into production in December 2022. Audi checked all affected parts and all unsold vehicles were reworked.
The automaker says it isn't aware of any customer complaints, warranty claims or other field reports.
Audi expects to mail airbag recall letters April 14, 2023, and dealers will replace the front passenger airbag modules.
Audi A8 and S8 owners may contact Audi at 800-253-2834 and refer to recall number 69ET.