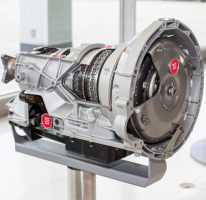 — A Ford 10-speed transmission class action lawsuit alleges defects in the transmissions cause vehicles to lunge, jerk, clunk, hesitate, and slip between gears.
The lawsuit alleges the 10R80 10-speed automatic transmissions may also cause Ford and Lincoln vehicles to shift harshly and erratically.
Some owners have also reported their vehicles suddenly lost power while driving.
The Ford 10-speed transmission lawsuit involves these vehicles equipped with 10R80 automatic transmissions.
2017 to present Ford F-150
2018 to present Ford Expedition
2018 to present Mustang
2019 to present Ford Ranger
2018 to present Lincoln Navigator
Specifically, the 10-speed transmission lawsuit includes:
"All persons in the United States and its territories who formerly or currently own or leased one or more vehicles with a 10R80 10-speed automatic transmission."
The two owners who filed the class action lawsuit allege Ford has refused to recall or replace the 10-speed 10R80 transmissions even though they have "life-threatening" safety problems.
The plaintiffs assert Ford tells owners the transmissions are performing normally, so no real repairs are performed other than as mentioned in technical service bulletins issued to Ford dealers.
According to the class action, the standard response from Ford to a customer has been to reprogram the powertrain control module.
In addition:
"[A]dvise the customer that this vehicle is equipped with an adaptive transmission shift strategy which allows the vehicle's computer to learn the transmission's unique parameters and improve shift quality. When the adaptive strategy is reset, the computer will begin a re-learning process. This re-learning process may result in firmer than normal upshifts and downshifts for several days."
In some cases, technical service bulletins issued by Ford to dealers told technicians to:
"[O]verhaul the main control valve body and/or perform an adaptive learning drive cycle," and "advise the customer that … [resetting the adaptive transmission shift strategy] may result in firmer than normal upshifts and downshifts for several days."
Ford 10-Speed Transmission Lawsuit — The Plaintiffs
The Ford transmission class action lawsuit was filed by Florida plaintiff Joseph Vangel who purchased a 2023 Ford F-150 Lariat, and Florida plaintiff Bryan Klontz who purchased a 2020 Ford Ranger. Both vehicles are equipped with allegedly defective 10-speed transmissions.
Plaintiff Vangel alleges soon after purchasing the truck, the 10-speed transmission seemed to skip gears gears while upshifting and downshifting. The transmission also allegedly made loud and distracting "clunking" noise.
Vangel asserts he "can feel the Vehicle 'skipping' gear shifts while driving."
Plaintiff Klontz contends with 27,000 miles on the Ford Ranger, the 10-speed transmission began shifting hard between gears to the point he hears a bang during the shifts. The plaintiff also alleges he experiences a feeling of a jolt when these shifts occur.
Although the two owners filed this class action lawsuit for more than $5 million and both plaintiffs claim the vehicles are equipped with defective transmissions which create "an unreasonable risk of serious bodily harm and death," the plaintiffs do not claim they had their vehicles inspected or diagnosed by Ford or any mechanic.
The Ford 10-speed transmission class action lawsuit was filed in the U.S. District Court for the Southern District of Florida: Vangel, et al., v. Ford Motor Company.
The plaintiffs are represented by Milberg Coleman Bryson Phillips Grossman, The Carlson Law Firm, P.C., Wallace Miller LLP, and Brent Coon & Associates.