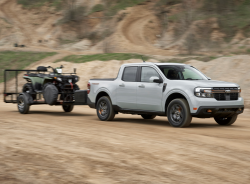 — A 2023 Ford Maverick recall involves nearly 3,200 trucks that are missing electrical circuits that can cause the trailer tail lights to fail.
The 2023 Ford Maverick trailer tail light failures violate federal vehicle lighting standards.
Ford learned about the problem in February when a 2023 Maverick truck had problems with the trailer tow tail light function. A warranty claim was filed after a truck owner complained the trailer tail lights didn't work.
The dealership discovered the assembly plant didn't include a circuit in the engine bay electrical harness.
"Further investigation by the assembly plant and engineering revealed that a revised engine bay wire harness released for the 2023 model year did not include a circuit for the class II trailer tow (7+4 connector). All 2023 model year vehicles with Class II trailer tow are affected." — Ford
As of March 3, 2023, there were four warranty claims related to the Maverick trailer tail lights. But Ford is unaware of any crash or injury reports.
Ford Maverick truck recall letters will be mailed March 29, 2023, and Ford dealers will add electrical circuits to the engine bay wiring harnesses.
Ford Maverick owners can learn more by calling 866-436-7332 and asking about recall number 23C04.