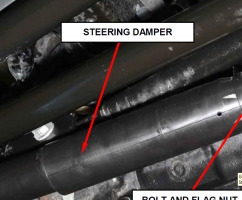 — A Jeep "death wobble" lawsuit settlement has been preliminarily approved for all U.S. consumers who purchased or leased 2018-2020 Jeep Wrangler or 2020 Jeep Gladiator SUVs.
Although customers and the media have labeled it a "death wobble," the Jeep retains its acceleration, braking and steering functions and there are no known deaths related to the condition better called a front-end vibration.
The original steering damper class action lawsuit included 2015-2018 Jeep Wranglers, and the plaintiff wanted Chrysler to buy back all the Wranglers and pay damages for allegedly placing the public in danger.
Plaintiff Clair Reynolds filed the Jeep steering damper lawsuit in June 2019 which was amended in January 2020 to add additional plaintiffs and claims.
Then in March 2020, plaintiff Melinda Martinez filed a Jeep steering damper class action lawsuit which was later consolidated with the Reynolds lawsuit.
The plaintiffs claim the Jeep Wranglers and Gladiators are dangerous to drive due to vibrations that can occur after hitting a bumpy surface.
But Chrysler argues Jeep vehicles are used for off-road driving, and that type of driving requires a solid front axle.
Automakers say a vehicle for use off-road needs a solid axle to handle the conditions, while a vehicle traveling 70 mph on a highway will be better off with an independent front suspension.
A solid front axle will provide a better ramp travel index which relates to how high one wheel can go while the other three wheels remain on the ground.
Although any vehicle with a solid front axle may vibrate at highway speeds after hitting a bump, FCA says the vibrations are easily corrected by simply slowing down, and all functions of the vehicles remain active.
In addition, the National Highway Traffic Safety Administration looked into the so-called "death wobble" and determined there were no defects related to safety.
Following so-called Jeep "death wobble" complaints and the original lawsuit, Fiat Chrysler announced customer satisfaction notification V41 for 2018-2019 Jeep Wrangler (JL) vehicles.
Chrysler said the Jeeps could shake and shimmy in the steering wheels, especially when driving more than 55 miles per hour and after hitting a bumpy road surface. The vibrations were more likely to occur in temperatures below 40° Fahrenheit.
The customer service program was announced to replace the steering dampers with upgraded dampers to reduce the wobbles. However, there was no safety recall involved because the steering dampers weren't defective.
Affected owners were contacted about the free steering damper replacement program and informed about a reimbursement program for customers who had already paid for repairs.
Jeep Steering Damper Lawsuit Settlement
Although the plaintiffs wanted Chrysler to buy back the Jeeps, the settlement agreement says a Wrangler or Gladiator customer will receive an extended warranty, but only for a failed front suspension steering damper.
The extended warranty applies for eight years or 90,000 miles from the date the Jeep first went into service.
Additionally, customers who paid to repair a steering damper may submit a reimbursement claim. However, customer satisfaction notification V41 in 2019 already provided reimbursements for steering damper repairs on 2018-2019 Jeep Wranglers.
According to the Jeep steering damper class action settlement, plaintiffs Clair Reynolds, Monica Martirano, William Martin Powers, Trina Hancock, Melinda Martinez and Brady Laing will receive $4,000 each. The attorneys representing those plaintiffs will receive $3,950,000.
Although the Jeep steering damper class action has been preliminarily approved, the judge still needs to grant final approval to the settlement. A final fairness hearing is scheduled for April 19, 2023.
The Jeep steering damper lawsuit was filed in the U.S. District Court for the Eastern District of Michigan: Clair Reynolds, et al., v. FCA US, LLC.
The plaintiffs are represented by the Miller Law Firm, and Saltz Mongeluzzi Barrett & Bendesky.